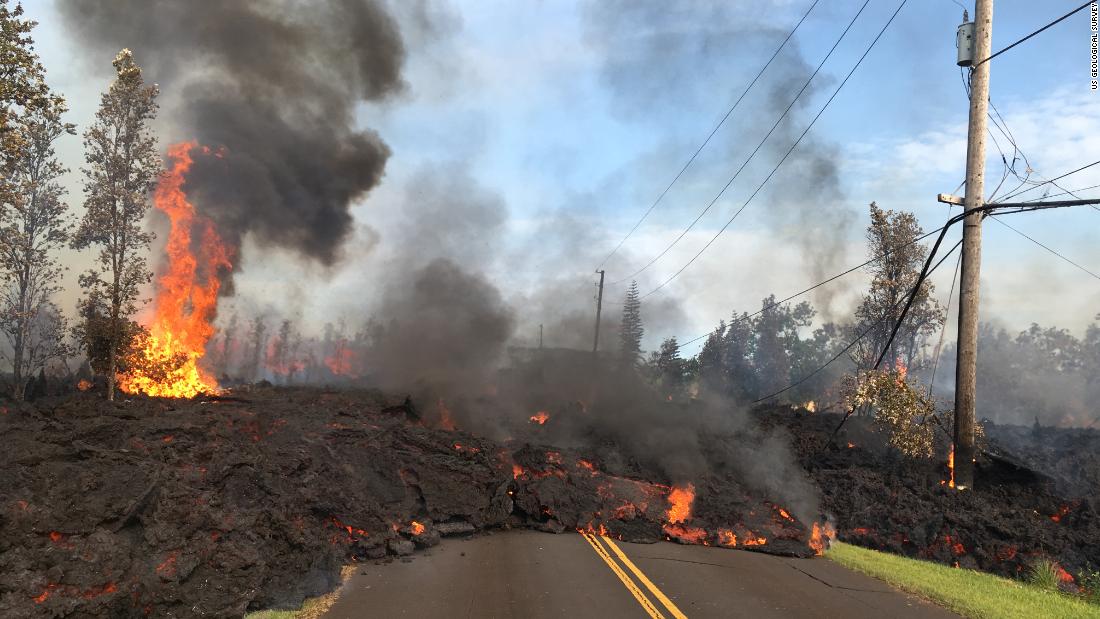 (CNN)When Jordan Sonner bought her home on Hawaii's Big Island in 2016, she knew her neighborhood sat in the East Rift Zone, in the shadow of the Kilauea volcano.
"At the time, I understood it as a possibility," she said. But she never thought it would be a reality.
Now Sonner's neighborhood is at the center of an unfolding emergency after the Kilauea volcano erupted Thursday, spewing molten rocks and high levels of sulfur dioxide into the area.
By Sunday, at least 26 homes had been destroyed as a result of the eruption, which was followed by a 6.9-magnitude earthquake on Friday — the island's most powerful since 1975, according to the US Geological Survey.
As of Sunday morning, nine volcanic vents had erupted in evacuated neighborhoods on the island, County of Hawaii officials said.
All residents of Leilani Estates, a community of about 1,700 people near the Big Island's eastern edge, and nearby Lanipuna Gardens have been ordered to evacuate.
Neil Valentine and his family also left their home Thursday night in Leilani Estates. He later saw a video on social media showing lava splashing and bubbling a few feet from his home, he
told CNN affiliate KITV
.
"Just basically heartbreak," he said of the scene. "My wife and I have been married going on 26 years. It was pretty much our dream home that we've been looking for all this time. Just knowing that we're not going to have a house, my wife is still in tears."
Vents still opening
Cracks in
Kilauea volcano's rift zone
— an area of fissures miles away from the summit — erupted Thursday and early Friday, spurting lava near the island's eastern edge.
"The area continues to be unstable with volcanic venting and related hazards of earthquake and poisonous gases ongoing," the Hawaii Civil Defense Agency said Saturday night.
New photos released by the USGS showed a wall of molten lava that came from the seventh fissure in Leilani Estates and a new crack in one of the subdivision's roads.
Breathing large amounts of sulfur dioxide can result in burning of the nose and throat, and breathing difficulties. Senior citizens, the young and people with respiratory issues are especially vulnerable to the gas,
the state's Emergency Management Agency said
.
Hawaii County Civil Defense administrator Talmadge Magno told
CNN affiliate KHON
that the vents had quietened Saturday, "but we're pretty certain that we're not done yet."
"Vents continue to open up, so we lost a few more structures," he said. "I'm pretty happy that we did evacuated the whole neighborhood and unfortunately some people are still in there and we need to get them out. The gases are still high."
Some first responders have felt the affects of the gas, he said.
On Sunday, some Leilani Estates residents were allowed to return to their homes to gather additional supplies, belongings and any pets that may have been left behind, according to
CNN affiliate KGMB/KHNL
.
Residents wracked by uncertainty
Sonner was at work this week when she heard that lava had erupted in her neighborhood.
"It was a moment of panic," she said, "because the only thing I knew was, 'lava in Leilani.'"
This time she was ready. She had bags packed with her clothes, important documents and whatever her dogs would need. The only other item she took was a chain necklace that belonged to her late father.
"I've always said that's the only thing I would run back into a burning building for, barring people and animals," she said. "There wasn't anything that important."
Corey Hale is one of the residents staying at the Pahoa Community Center. She was originally staying with a friend, but later chose to camp out in the parking lot.
"I wanted to be around a lot of people," Hale said. "It just felt better." Volunteers there have kept evacuees safe, well-fed and have plenty of hot coffee ready in the mornings.
Still, Hale wishes she'd been able to get more things from her home in Lanipuna Gardens before she left, like a compass that belonged to her great-grandfather, and other family heirlooms.
"At this point, I've got what I've got on my back," she said. "I didn't realize until this morning, I've got one pair of shoes."
Another resident, Steve Gebbie,
told CNN's Stephanie Elam on Saturday
that he initially stayed home when evacuations were ordered. But when he saw lava tear through the streets near his Leilani Estates home, he knew he needed to leave.
He didn't know what would become of his house, one he built with his own hands.
"Now it's trying to figure out what the future brings. … My work. My job. Am I going to have to move to somewhere else on the island?"
"I'd have to start over at age 56," Gebbie said. "That's concerning."
Sonner's been staying with a friend since she fled her home. While her home is likely safe from lava, she still hasn't been back since Friday's 6.9-magnitude earthquake. And she doesn't know when she'll get to go back.
"It's difficult," she said, "because everything is so uncertain."
Read more: http://edition.cnn.com/