Paul Bocuse, who became one of the 20th century's most influential chefs by building on the traditions of French haute cuisine with a distinctive style that emphasized simplicity and freshness, has died. He was 91.
He died Saturday at Collonges-au-Mont-d'or, the Associated Press said, citing a statement from French President Emmanuel Macron. Bocuse had Parkinson's disease.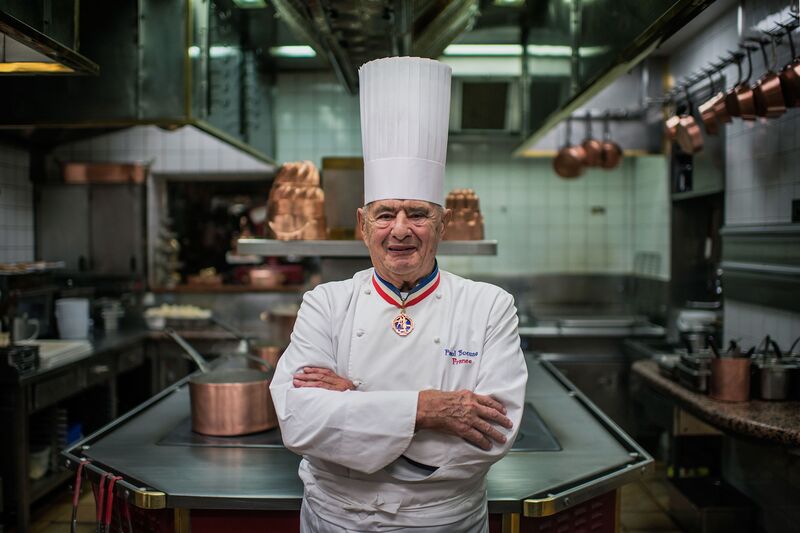 In lending his name and advice to restaurants around the world, Bocuse fashioned a template followed by chefs such as Alain Ducasse, Joel Robuchon and Gordon Ramsay.
 
Bocuse "started things for this modern era of the chef as cultural star," Michael Ruhlman wrote in "The Reach of a Chef," his 2006 book. "Bocuse was really the first to play to the media and begin to elevate the chef's standing toward what it is today.'
Yet he never lost touch with his roots, retaining three Michelin stars for more than four decades at his flagship establishment near his birthplace outside Lyon, France. Still on the menu is his most famous dish, Black Truffle Soup V.G.E.
He opened a chain of eateries, Les Brasseries Bocuse, across France. Not content with being a star at home, he traveled the world, lending his name to restaurants from Florida to Hong Kong, and acting as an ambassador for French cooking. He set up a scholarship with the Culinary Institute of America and founded the Bocuse d'Or World Cuisine Contest as well as an institute for culinary arts. He was also the author of several cookbooks, including La Cuisine du Marche, in 1980.
Bocuse said that he hadn't revolutionized French cooking, only simplified it after a period marked by "the heavy meals and the rich sauces of the Escoffier school," according to a 1972 article in the New York Times.
"First-rate raw materials are the very foundation of good cooking," he said. "Give the greatest cook in the world second-rate materials and the best he can produce from them is second-rate food."
Bocuse was born into a family of restaurateurs on Feb. 11, 1926, at Collonges-au-Mont-d'Or, in eastern France, where the main food market is named after him. It was there that he shopped for produce from local characters such as the cheese maker Mere Richard and the pork butchers Colette Sibilia and Gast. His ancestors had been known for their cooking as far back as in 1765.
He went to work in 1942 in a restaurant in Lyon. In 1944, he enlisted in the First French Division and, in World War II combat, was shot in Alsace, where he received transfusions in an American field hospital. In later decades, especially as he became popular in the U.S., he enjoyed pointing out that he had American blood in him.
In 1948, he began work under chef Fernand Point, whose reliance on the freshest products available each day shaped Bocuse's views.
 
In 1959, Bocuse saved the family restaurant from ruin and made L'Auberge du Pont de Collonges Restaurant Paul Bocuse a dining destination. It is there that you can still order Soupe aux Truffes Noires V.G.E., which Bocuse created in 1975 for then-President Valery Giscard d'Estaing at an Elysee Palace banquet.
 
In 1966, a year after winning his third Michelin star, Bocuse succeeded in buying back his great-grandparents' old restaurant and placing it under the family wing. He named it the Abbaye de Collonges.
 
Bocuse was named a knight in the French Legion of Honor in 1975, and a commander in 2004.
 
He was married for more than 60 years to Raymonde, but unashamedly kept two long-term mistresses and enjoyed other liaisons, according to an interview in the Daily Telegraph.
 
"It would not be everyone's idea of married life, but everyone gets on," the newspaper quoted him as saying in 2005. "They are all happy, with me and with each other, and if I add up the time we have spent together as couples, it comes to 145 years."
 
"These days I feel best surrounded by nature, beside my lake, with my dogs and friends," Bocuse said in the interview at Collonges. "I regret nothing, save perhaps the pain I may have given the women of my life. I hope they will forgive me."
Read more: http://www.bloomberg.com/